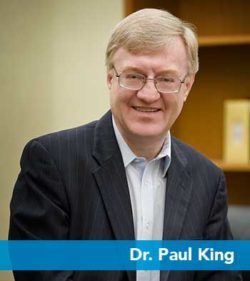 Hi, I am Paul King and I have a passion to go deeper and higher in Christ and to equip every believer for ministry. I am an ordained minister with The Christian and Missionary Alliance, author of 14 books, former professor at Oral Roberts University, and a cancer overcomer. My wife Kathy and I have been married 46 years. We live in Owasso, Oklahoma, and have two grown children: Sarah, a tax accounting manager, and Chris, a professor of Philosophy and Religion
Interdenominational International Speaker & Seminar Teacher
Ministry in U.S., South Korea, Canada, Caribbean, United Kingdom, Nigeria, South Africa, Singapore, and Fiji
Guest Bible teacher on "Faith Alive" TV programs
Baccalaureate and graduation speaker
Elder and Leadership Training Seminars
Ministry, Leadership, and Church Consultant
Dr. King's Ministry Experience:
Founder/CEO/President, Paul King Ministries, Inc. and Higher Life/Alliance Heritage Renewal Network
Faculty Mentor, Randy Clark Scholars Doctor of Ministry Program, United Theological Seminary–3 years
Adjunct Professor, Crown College and Southwestern Christian University
Professor and Bible Institute Coordinator, Oral Roberts University–16 years
Scholar-at-Large, Alliance Theological Seminary, Nyack, New York, 2010-2012
Pastoral Church Ministry–29 years
Christian School Administrator–6 years
Education
Doctor of Theology, University of South Africa, 2002.
Doctor of Ministry, Oral Roberts University, 2000.
Honors
Scholar of the Year, Oral Roberts University, 2006
School of LifeLong Education Outstanding Faculty Service Award, Oral Roberts University, 2006
Pardington Academic Prize for published book A Believer with Authority: The Life and Message of John A.
MacMillan. Awarded by Christian Publications, Inc., 2001. · Who's Who in American Christian Leadership, 1989.
ORU Honor Graduate, M. A. Th., 1979.
Graduate Teaching Fellowship, ORU, 1978-79.
Outstanding Young Men of America, U.S. Jaycees, 1978.
Who's Who Among Students in American Universities and Colleges, ORU, 1975.
The Ministry Emphases of Dr. Paul King:
Equipping Believers for Ministry Twelve Ways:

In Restoration
In the Word of God
In the Spirit
In Character
In Prayer
In Spiritual Warfare
In Spiritual Discernment
In Faith
In Ministry Skills
In Developing and Implementing Vision
In Fitting Together in Unity
In Equipping Others

Helping Believers Find Their Purpose and Calling–Every believer has a calling from God. Do you know God's purposes and calling for your life? Dr. King explains how you can find your niche in God's Kingdom.
Building Bridges between Evangelical and Charismatic Expressions of Faith­ — We encourage non-charismatics to be open to the supernatural dimensions of the Spirit without fearing the extremes, and charismatics to seek holiness of life, balance and discernment of true and false manifestations. We believe that there are many more genuine supernatural manifestations from God than many evangelicals are willing to acknowledge and fewer genuine manifestations from God than many charismatics are willing to admit. There is a balance between the two poles.
Teaching and Writing on Faith, Healing, the Power of the Holy Spirit, and the Higher and Deeper Christian Life, Ministry and Leadership Development, Elder Training
Mentoring and Training Leaders